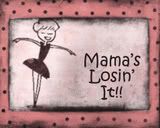 So Mama Kat has the weekly writers workshop, one that I actually could pick and write about with no problem.
I was always fat. I always had a problem with it. Immature little boys would remind me of my fatness daily which was so annoying. I didn't have a boyfriend until I was 17 and it didn't last but a week mainly because he went to college and never had time for me. My husband was the one guy that had been true to me.
Words that (used) to hurt me:
1) PORK! (that was yelled down the hall in school)
2) fatty, fatty 2x4
3) Wow, I can't believe you can get through the door!
Those were only a few. I wasn't huge but I was chunky and it was a constant reminder throughout my school age years. I will prove them all wrong. My goal is to have my picture in Maxim(the front where guys send in pics of their girlfriends). I am working on it with Wii and alli.
I will not be fat forever, I promise myself and my children that. I also have learned to ignore the immature little boys because they are the ones who are insecure, not me!